WELCOME!
Vintage Tavern offers upscale dining in a casual atmosphere. We have an extensive assortment of fine wines, specialty draft beers, martinis, and single malt scotches.
Mon-Thu 11:30a-9:30p
Fri-Sat 11:30a-10:00p
Closed Sunday
Our mission is to provide you with the freshest, least manipulated products available on the market. We use 100% sunflower oil for frying, because it is healthier than vegetable oil. Our chicken is fed a 100% vegetarian diet and is all-natural. Our beef products are also all-natural – meaning from farm to table there are no antibiotics, added hormones or preservatives used. Our shrimp is wild-caught exclusively from the gulf of Mexico, since theirs is a higher quality, more sustainable product.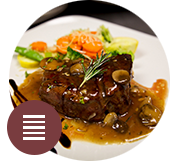 ---
Food
Four unique levels for dining.
Outdoor seating during warm weather.
Three private party rooms.
View menu
Upscale Dining in a Casual Atmosphere
Unique Features:
Roof Deck with spectacular views
Late 1800's building
Three fireplaces
Belt & pulley ceiling fans
Hand-crafted back bars on main floor & roof
Original tin ceiling, hardwood floors & brick walls
Leaded stained glass throughout
Catering for up to 100
Free WiFi
Gift Cards available